— Property
Australia Property Prices Continue To Surge to Start 2021
According to the latest data from CoreLogic, house prices were up 0.9% across the country in January, putting them 1.0% higher than when the pandemic officially began. Once again, Darwin has shown strong price growth to start the year, increasing by 2.3% in January, taking the annual growth rate 11.4% making it the most robust capital city market in the country over the past 12 months. Meanwhile, Perth,
Hobart, Brisbane, Adelaide, and Canberra have all seen a solid start to the new year, with increases ranging from 0.9% to 1.6%. The two cities that have been hardest hit with lockdowns, Sydney and Melbourne, continue to trail the other capital cities, seeing a growth of 0.4% in January. Notably, Melbourne is only -2.1% lower over the past 12 months, after the property market was hit with the toughest lockdowns in the country.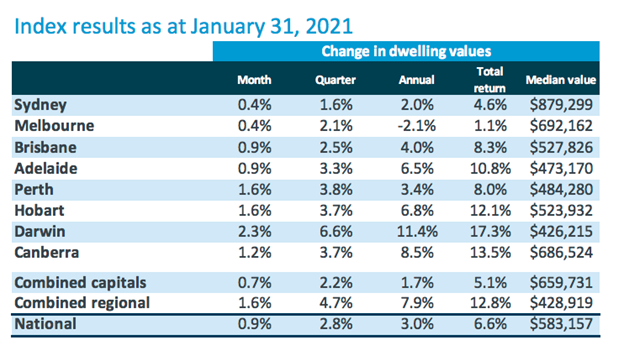 Regional Strength Continues
One of the clear trends in 2020 was moving towards regional areas and away from the larger capital cities. This trend appears to be continuing to start in 2021, highlighted by regional values rising 1.6%, compared to the capital cities that saw just a 0.7% increase. Regional markets are also 7.9% higher over the past 12 months.
CoreLogic notes that the moves towards the regions have been particularly pronounced in Sydney and Melbourne.
CoreLogic's Head of Research Tim Lawless notes that there are several fundamental factors behind the numbers.
"Internal migration data shows more people are leaving Sydney and Melbourne for regional areas, resulting in a transition of activity from the metro regions to the outer fringe and regional markets.
This demographic trend is further compounded by the demand shock of stalled overseas migration. As Melbourne and Sydney historically receive most overseas migrants, these metro areas have been the hardest hit by this demand shock. Better housing affordability, an opportunity for a lifestyle upgrade, and lower density housing options are other factors that might be contributing to this trend, along with the newfound popularity of remote working arrangements."