— Property
Australian Property Prices Surge Higher in February
Property prices across Australia continue to surge higher, with the latest house price data showing another big jump in February.
According to the latest data from CoreLogic, house prices rose by 2.1% across the nation, marking the most significant jump we've seen since 2003.
In February, Sydney, Melbourne, and Hobart were the most critical performed capital cities, rising by 2.5%, 2.1%, and 2.5%, respectively. While all other capital cities recorded gains upward of 0.7% for the month.
Over the last quarter, house prices across the nation have risen by 4.0%.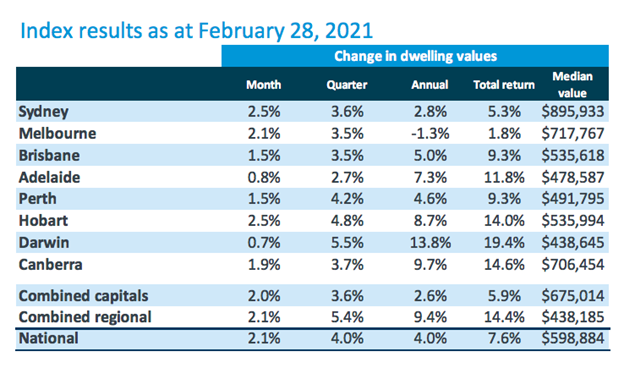 Regional areas also continue to see substantial gains in price, jumping 2.1% in February and 5.4% over the quarter. Since the onset of COVID in March 2020, regional house prices have seen tremendous interest and are 9.4% higher across the country.
The last time house prices were rising at this type of rate was in 2009, and there are some critical parallels to what we're seeing in the market right now.
After the GFC, the Federal Government released a host of stimulus measures in a bid to boost demand for property. During that period, house prices rose by around the same amount introduced through the stimulus measures.
Since COVID began, we've seen interest rates fall to record low levels, while a range of state and federal government incentives have been rolled out, including the Building Bonus and stamp duty relief.