— Education
Chuck Schumer Wants Biden To Cancel $50,000 In Student Loan Debt To Support Veterans
As the Biden administration debates how much student loan debt to cancel through executive action, Senate Majority Leader Chuck Schumer (D-N.Y.) wants President Joe Biden to see the plight of one particular group as a reason to go big: veterans. Biden can do this with the flick of a pen… veterans are people who disrupted their lives and risked their lives — it doesn't seem like much to ask," Schumer told HuffPost in an interview on Thursday. Student debt is crushing veterans.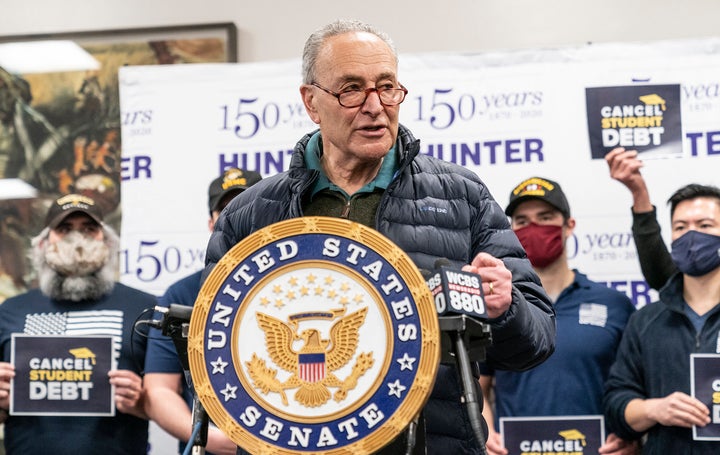 For-profit schools have targeted service families for years, trapping many with debt. About 200,000 service members owe almost $3 billion in student loans, and less than 10% have begun the process of loan forgiveness, an advocacy group called the Student Loan Borrower Protection Center found last year. The corresponding numbers among veterans, a bigger group than those currently serving, are likely far higher. And veterans say debt worries worsen the mental health challenges already experienced by many in their community.
Schumer, Sen. Elizabeth Warren (D-Mass.), and allies in the House, including Reps. Ayanna Pressley (D-Mass.) and Ilhan Omar (D-Minn.) have spent the months since Biden's presidential win urging him to quickly wipe out billions of dollars of student debt by canceling up to $50,000 per person.  Biden has said he would cancel $10,000 per borrower, arguing that writing off more would be logistically impossible and too beneficial to wealthy Americans who attended expensive schools.  But the piles of loans among veterans and current troops show that forgiving a more significant amount is not a matter of supporting the wealthy, Schumer said.  Last month, White House chief of staff Ron Klain said Biden reviewed the legal arguments for erasing $50,000 per person instead.