— Property
The Major Banks Expecting Double-Digit Growth in House Prices
2021 has started solidly as most property markets across the country continue to see rising prices.
According to the latest data from CoreLogic, house prices are up once again in February, and it appears that the big banks are also predicting significant price gains over the next 12-24 months.
Month to date, house prices in our major capital cities are 1.2% higher, according to CoreLogic, taking the year-to-date gains to 1.4%. Out of Australia's five largest cities, Perth has been the strongest this year, with revenues of 2.4%, followed by Brisbane at 1.5%.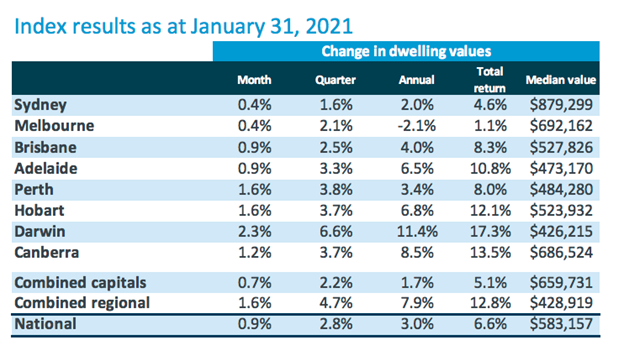 Both Perth and Brisbane have avoided the bulk of the lockdown measure, with Sydney and Melbourne notably feeling the effects. Similarly, Sydney and Melbourne have also been two of the strongest performers over the past decade.
Rising property prices are also the story that we hear from Australia's central banks, which have recently been updating their property forecasts for 2021 and beyond.
For the most part, the outlook appears to be incredibly strong for homeowners and investors as prices continue to be boosted by record-low interest rates and the fallout from the various Government incentives that we've seen over the past 12 months.
Bank Forecasts
CBA updated its price forecasts recently, and it is now very bullish on property across the board. We must note that CBA was one of the most bearish when COVID first hit, and they have now completely changed their tune.
CBA expects house prices in our major capital cities to rise by 8% in 2021 and 14% by December 2022.

They predict Perth and Darwin to be the strongest markets in 2021, with 10% and 12% gains, respectively. It's also worth noting that Perth and Darwin were two markets that have been the hardest hit over the past five years, falling in value, when the East Coast of Australia boomed.
NAB's price forecasts are also very bullish and are almost in line with that of CBA. NAB is expecting to see house prices rise on average by 7.9% in 2021 and then 6% in 2022. NAB expects Brisbane and Hobart to be the strongest performed markets in 2021, increasing in value by 10.1% and 9.7%.