— Property
The Property Price Booms Continues in May
House prices across the country have continued to boom in May, with the latest data showing values increased by 2.2% and 10.6% annually.  According to CoreLogic, Sydney continues to lead the nationwide surge in prices, increasing by 3.0% in May. All the capital cities increased in value, with Brisbane up 2.0% and Melbourne by 1.8%. While Hobart and Darwin continued their recent solid performances as well. Perth remains the weakest capital city market but still saw an increase of 1.1% last month.  Over the past three months, national house prices rose by 7%, with the median house price in Australia now sitting at $634,355. 
Source: CoreLogic
After lagging last year, prices in the capital cities have now started to outpace the regional areas. We saw a big shift from people looking to move away from capital cities last year; however, now many homebuyers are making it clear that the time is right to be jumping back into the capital city markets ahead of regional areas.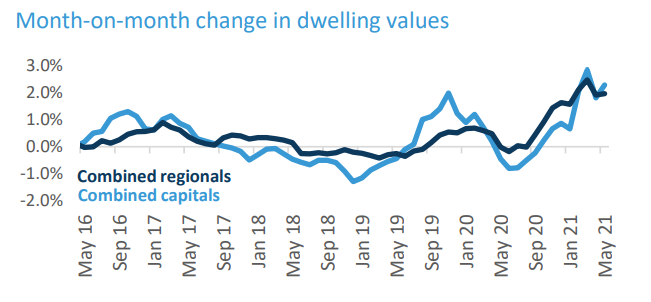 Source: CoreLogic  
Capital cities have outperformed regional areas twice in the past three months and in May, were 2.3% higher, compared to the 2.0% increase in regional areas. Over the quarter, regional areas have lagged with a 6.5% increase versus 7.1% in the capital cities.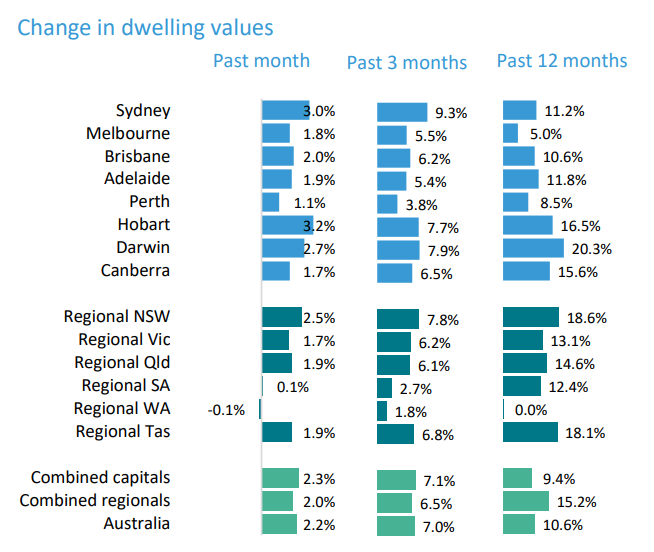 Source: CoreLogic